Published August 15, 2019 . 0 min read
Intelligent Resource Management: McClone Contruction
INTELLIGENT RESOURCE MANAGEMENT: MCCLONE CONSTRUCTION
Operations Manager by ProNovos: A Case Study in Intelligent Resource Management, with McClone Construction Co., El Dorado Hills, California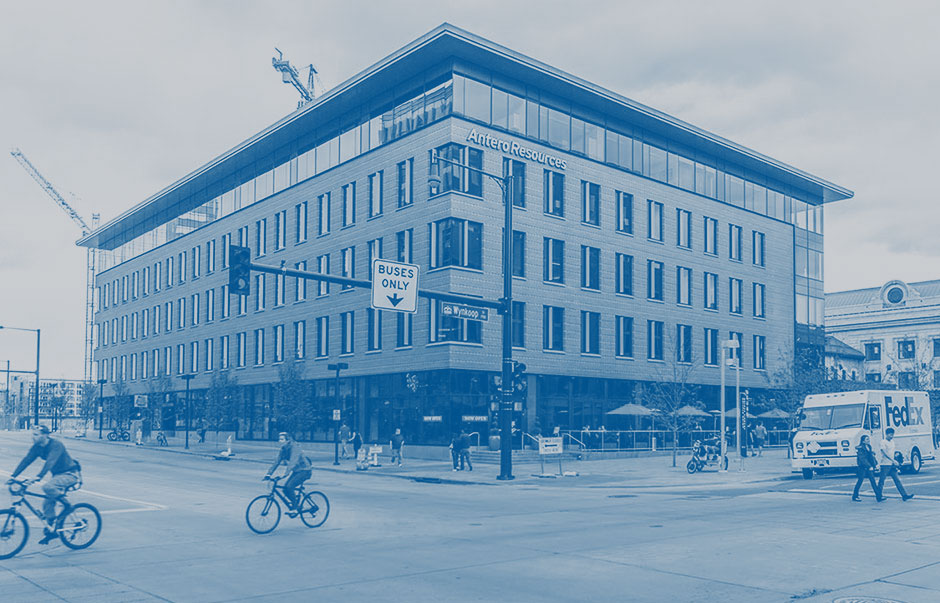 The Intelligent Resource Management component in ProNovos' Operations Manager platform connects contractors' people, projects, schedules and tasks in one easy-to-use interface.
What follows is a case study of El Dorado Hills, Calif.-based McClone Construction Co.'s transition from traditional methods (AKA Excel) to advanced, intelligent resource management via ProNovos' Operations Manager platform. Founded in 1975, McClone specializes in structural concrete and concrete formwork. With additional offices in Hawaii, Colorado, Texas (Central and South) and Washington, the company has completed well over 1,000 projects across the United States.
McClone is always looking for ways to improve their operations and performance. In working with ProNovos, the national contracting firm sought to take advantage of the data-analytics revolution to optimize its resources and achieve greater transparency into its operations. McClone rolled out Operations Manager in 2018, first as a beta test and then companywide. "Part of what we wanted to do was get a data-driven sense of which projects we should target with bids," explained Mikeal Kanouff, McClone's Washington Area Operations Manager. "As a result of our experience with this platform, we're now big believers in intelligent resource management."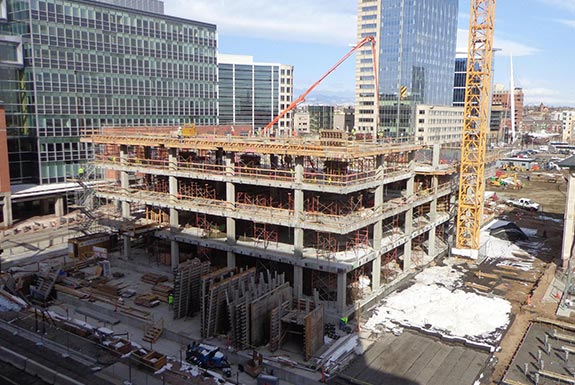 Intelligent Resource Management: The Big Picture
Prior to rolling out Operations Manager, McClone relied on the approach used by most contractors seeking to track and manage projects, personnel and equipment: typing data into static spreadsheets and running a multiplicity of apps for divergent tasks. "What you find in construction is that everyone lives in Microsoft Excel documents," Kanouff noted. "Data separation is a huge problem."
By contrast, Operations Manager funnels multiple streams of resource and project-planning data into a cloud-based platform, accessible on multiple devices and from any location. The simplicity of this integrated approach immediately appealed to McClone's teams. "Busy construction professionals aren't techies who sit in front of a computer all day," Kanouff explained. "They don't have time to master four to six different pieces of software, all opened and closed separately, and all with different logins and passwords."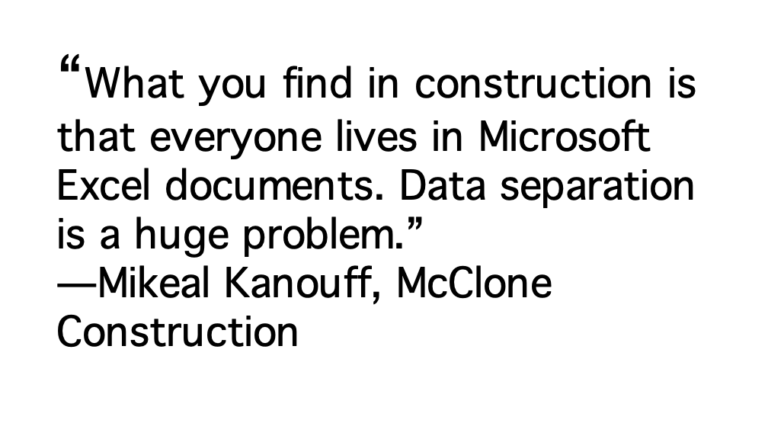 Key personnel at McClone, including project managers, superintendents, engineers, estimators and c-suite executives, now use Operations Manager to answer questions about projects, resources and timetables.
"It's huge to be able to go into Operations Manager and know, without jumping systems, what your equipment and personnel needs are or what RFIs are hanging out there, all in one spot," Kanouff said. For example, a project manager using the platform to review drawings might realize that a certain piece of concrete-forming equipment will be needed. "Without leaving Operations Manager, that person can jump right over to the equipment section, see where that item is located and where it's going, and then use that information to plan for the job," Kanouff said. "Integration makes a very big difference."
Higher-Resolution Personnel Data
According to Kanouff, leveraging intelligent resource management has made it far easier for decision-makers at McClone to determine whether to crew up or crew down from week to week. They might use Operations Manager to find out if a particular superintendent is over-allocated during a certain timeframe, or look to see how many hours an engineer aims to spend on a specific project on a given date. "You want the right person for the right job," Kanouff said. "By giving us greater transparency into our resources, Operations Manager really helps us gauge and understand our active projects."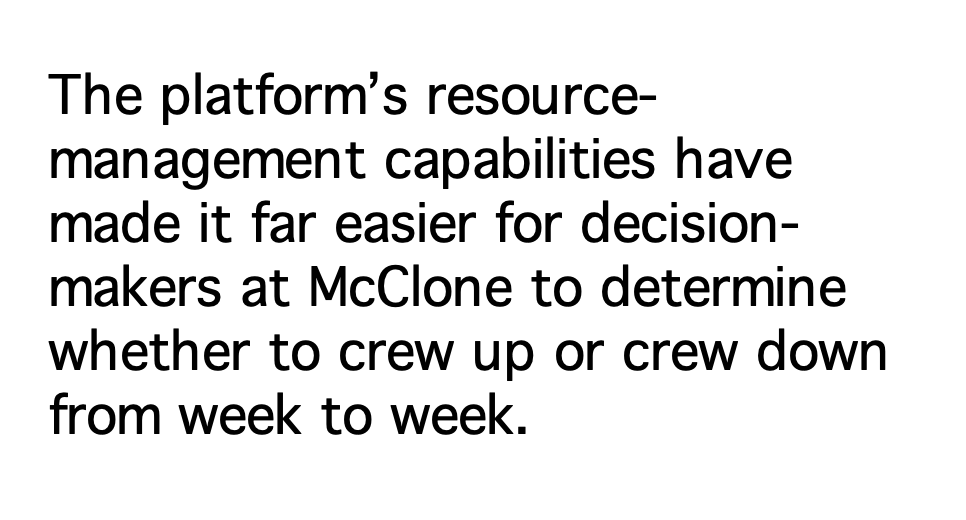 In the same way as users update their "status" on social media, McClone's teams use Operations Manager to quickly and easily refresh key information. Whether sitting at a laptop in the office or swiping through a tablet in the field, decision-makers at McClone can access data related to overhead, materials, bids, costs, active projects, workloads, equipment and more at varying levels of detail. Ops Manager even offers a "ratings system" to help teams evaluate present and future workloads of key managers, superintendents and engineers at a glance.
"That's a capability we haven't seen in any other program," Kanouff noted. "You can assign team members to certain jobs, put tasks against those personnel and 'heat up' their resource value." Construction pros often juggle multiple projects; the ratings system helps McClone optimize its teams' performance. For example, if a project manager ranks at or near full capacity, the company might assign an assistant to provide some additional boots on the ground. "Our teams are now better able to understand the work they're taking on, which ensures that we make better business decisions," Kanouff said. "We can gauge both the crew sizes and the resources that we have on our projects. It's all embedded right in the application."
Construction Equipment Tracking
Contractors often struggle with construction equipment tracking. And yet when it comes to staying on schedule and on budget, knowing when and where a particular trencher or backhoe will be at a given time is important. In worst-case scenarios, contractors shell out thousands of dollars in unnecessary rental costs: Concerned that a key piece of equipment will not be available for transfer to another jobsite at the right time, they sign a contract to rent another one for three or six months. In other cases, inadequate equipment forecasting creates costly delays on multiple job sites. "If you have 10 or 15 different jobs going on and everyone requests the same equipment at the same time, the result can be a problematic bottleneck," Kanouff notes.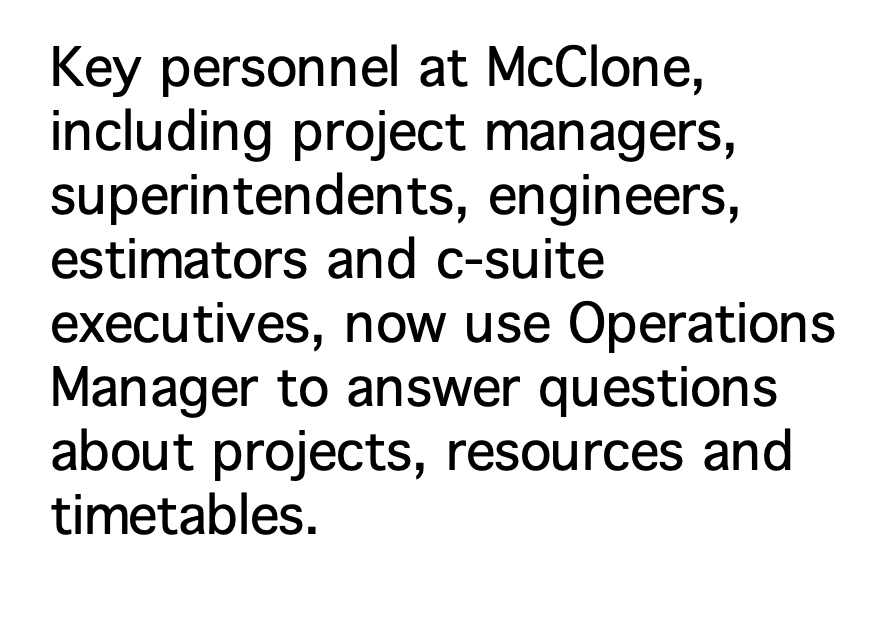 Having tried various apps and spreadsheet-based approaches to construction equipment tracking, McClone worked with ProNovos to implement a more efficient system. Simply by launching the app, McClone's team members can now track and follow equipment wherever it is. "If I have a forklift that has a particular ID and I want to see where that forklift is, I can find it right away," Kanouff said. The different parts of the system also talk to each other: When a team member successfully requests a given piece of equipment for a certain time period, that equipment no longer registers as available in the system. "Real-time transparency enables proper planning," Kanouff said.
So far the shift to more efficient construction equipment tracking has saved McClone thousands of dollars in rental costs. "There's no need to spend money on rental equipment when the information is right there in the system," Kanouff said. "We're also using Operations Manager to gauge whether we want to continue to rent equipment or just make a capital expense and buy it."
Data-Driven Bidding and Project Prioritization
Within the Operations Manager platform, McClone also uses a ranking system to optimize the bidding process. The contractor assigns a "1" ranking to estimated projects under negotiation, a "2" to those jobs it most wants to pursue and a "3" for estimated projects that are still uncertain. The rankings are based in part on how well present and future project resources align.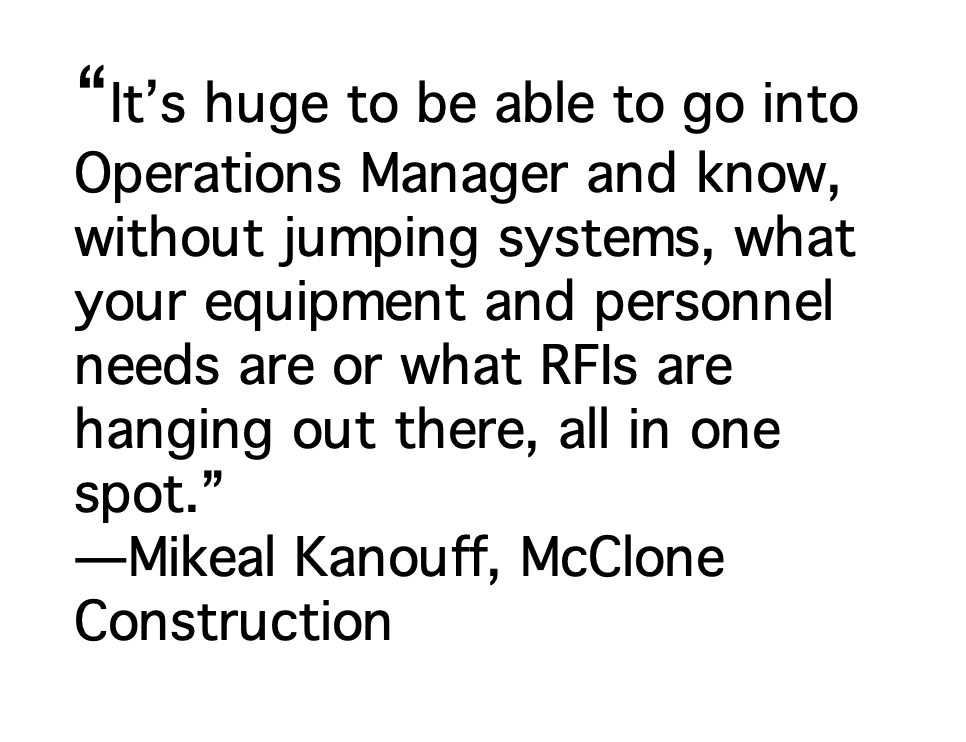 This approach has allowed McClone to avoid misallocating its resources—a capacity that is particularly important in hot construction markets or those in which the contractor maintains smaller offices. Kanouff noted, "Operations Manager helps them determine which projects to pursue."
Transparency also helps during negotiations with customers. For any construction client, Kanouff notes, finding the right contractor is a critical consideration. Operations Manager allows McClone to show prospects that it has quantified all resources needed for the job. "Customers appreciate knowing that you can back up your promises with carefully compiled and analyzed data," Kanouff said.
Data Analytics and New Insights
In addition to resource management, Operations Manager has benefitted McClone in a variety of other ways as well. In partnership with ProNovos, MicroStrategy (Nasdaq: MSTR) provides Operations Manager's best-in-class mobility and data-analytics engine. (The likes of Coca-Cola, AIG, Domtar and Apple, to name a few, also take advantage of MicroStrategy's award-winning data-analytics and mobile tech architecture.) Operations Manager also seamlessly integrates with major accounting, collaboration, planning, CAD drawing and other systems used in the construction industry.
Putting a strong emphasis on customization, ProNovos configures Operations Manager to clients' specific workflows. "That was important to us, because nowadays a lot of the software out there requires you to build your workflow around it rather than the other way around," Kanouff said. "With Operations Manager, you can run any report you want involving any piece of information. We've been using historical data to run reports on things like equipment costs or jobs with similar characteristics. It has yielded valuable insights for us."
With offices around the country, McClone also values the way individual teams can use Operations Manager to self-manage their resources. "You can track, manage and analyze your resources by individual area, not just the entire company," Kanouff explained.
Construction resource management capabilities of ProNovos' Operations Manager construction software
Press release on the launch of Operations Manager–a good primer on the benefits of construction resource management and construction software platforms