Published November 2, 2020 . 0 min read
Love Your Data! Introducing the New AP Dashboard by ProNovos
Love Your Data!
Introducing the New AP Dashboard by ProNovos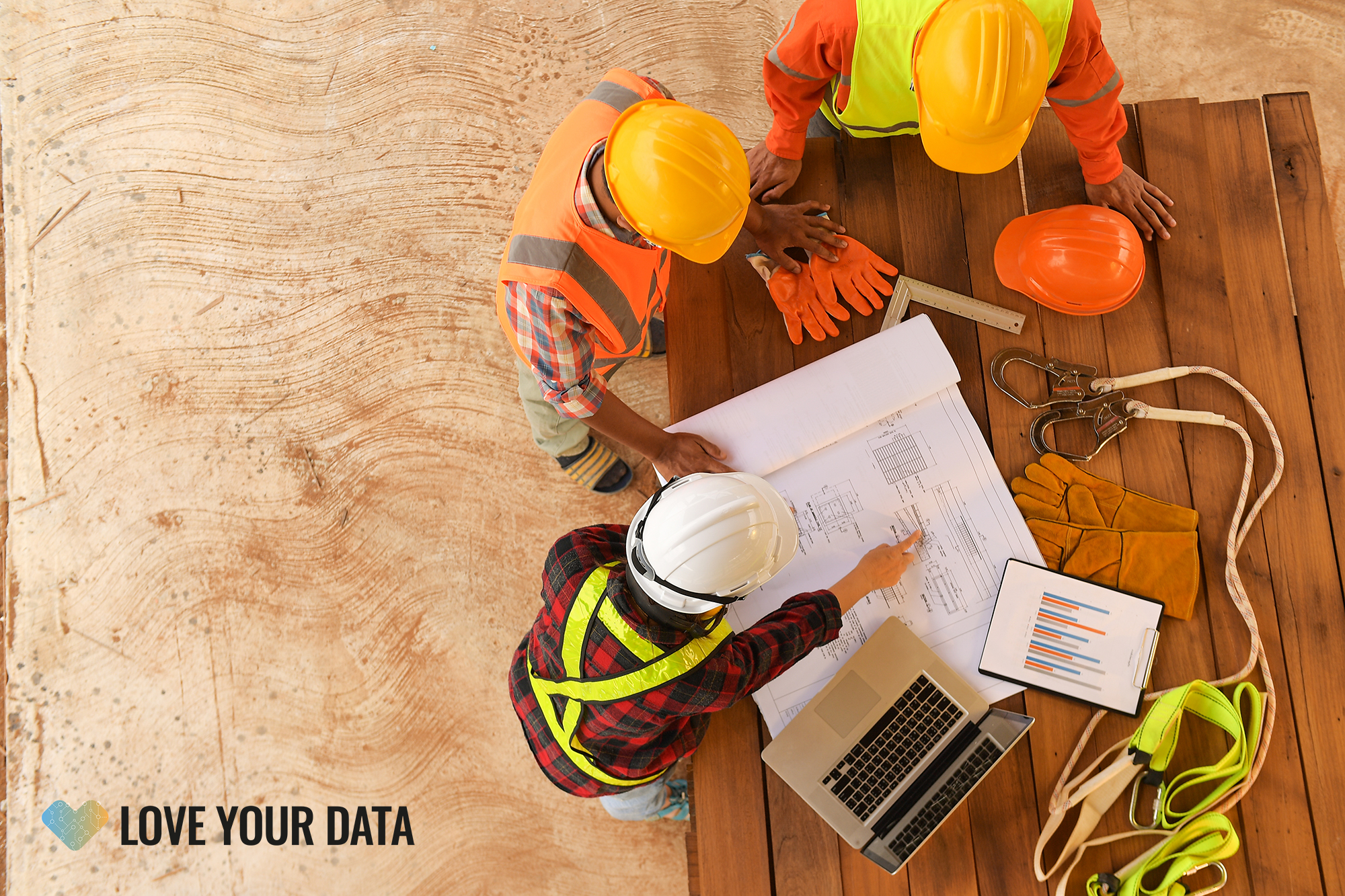 Imagine saving hundreds of thousands of dollars merely by tracking a single metric related to your Accounts Payable. 
It's the kind of "love-your-data" epiphany that we live for at ProNovos, where our designers, developers and analysts continue to collaborate with contractors to take construction data visualization to the next level.
In a previous post, we explained how our new Accounts Receivable dashboard yields insights into the state of your AR.
Our new Accounts Payable dashboard rounds out contractors' understanding of their cash position, said Bruce Orr, ProNovos founder and Chief Data Scientist.
"Understanding the state of your AP invoices is critical in any business, but especially in construction, where your payments to subcontractors and vendors typically are four to five times more numerous than the checks you have coming in," he said. "Knowing exactly what's happening with your AP department empowers you to be more decisive. You can communicate better with PMs, vendors and subcontractors and, ultimately, achieve greater efficiency and profitability as an organization."
As noted above, for some contractors tracking a single metric—the deadlines for receiving discounts from vendors and subs in exchange for making timely payments to them—could add up to thousands or even hundreds of thousands of dollars in savings. 
"When those deadlines are out of sight, they're more likely to be out of mind," he explained. "Combining AP data with analytics can help you eliminate that problem. Your AP team will get those invoices paid on time, per your cash-management plan, to reap those incentives."
Making timely payments also improves contractors' relationships with their valued vendors and subcontractors. "They're more likely to see you as a reliable partner," Orr said.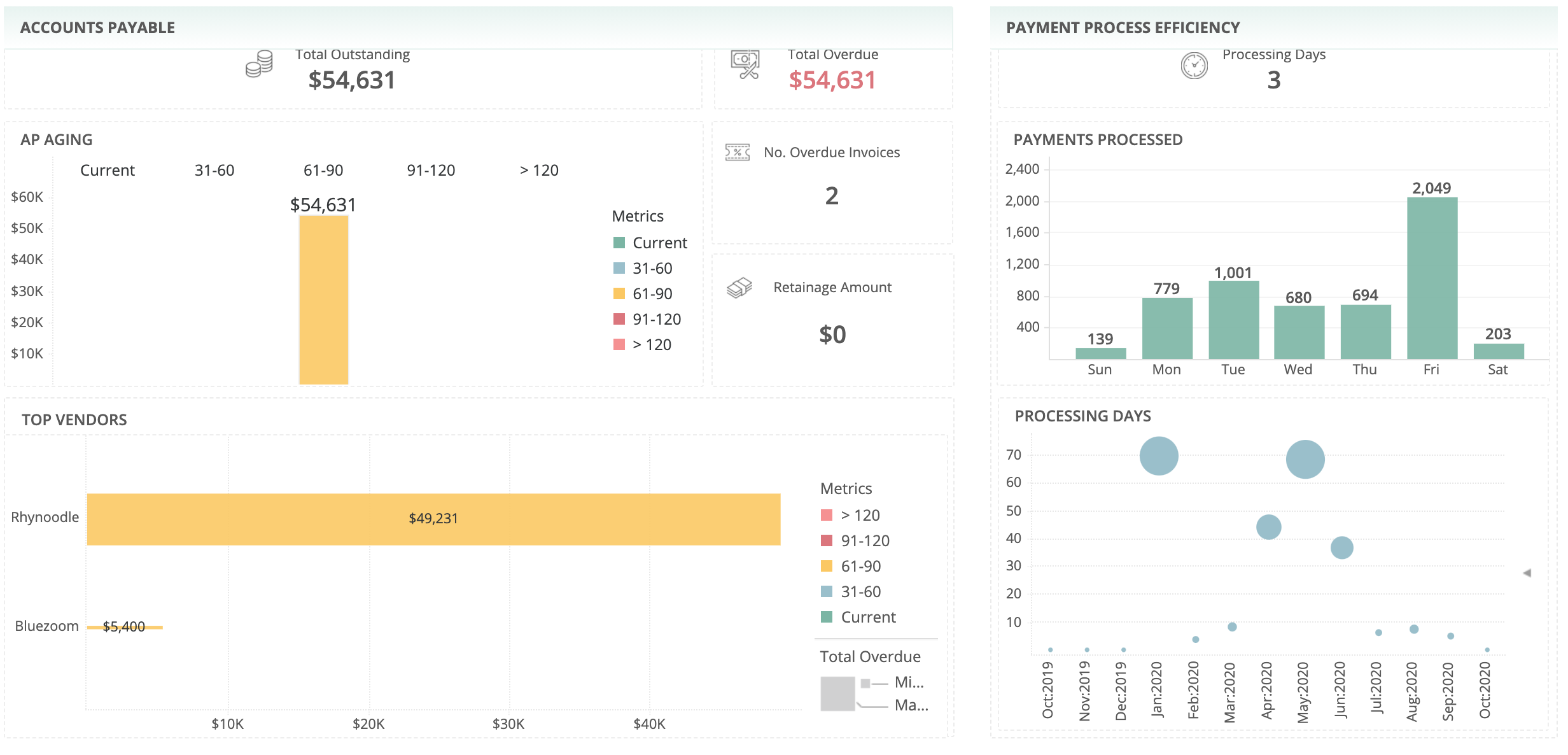 AP Aging by vendor
Our new AP dashboard gives you an easy way to see the total amount and aging of invoices by vendors and subcontractors. The length and thickness of the horizontal lines serve as visual cues for the total amount; color codes show the aging.  "You can break this down for individual projects as well," Orr said.
Busy field personnel, he adds, often find it a lot easier to understand charts, graphs, histograms as opposed to spreadsheet reports.
"Let's say they're getting questions from a sub or vendor about the status of a payment," Orr said. "They can call up our AP dashboard on their iPad or laptop, confirm the status of that payment and then take whatever action is appropriate. It's preferable to the PM saying to that party, 'Well, I'm sure your check is in the mail.'"
When are your AP teams the busiest?
Our new AP dashboard also allows contractors to see when their AP departments are busiest. It's an especially valuable capability for large, high-volume organizations. "The Processing Days section of our new AP dashboard puts your payment efficiency front and center," Orr said. "You can use this information to eliminate bottlenecks and allocate your accounting resources more efficiently."
Stay tuned for more updates
ProNovos integrates with Foundation, Viewpoint, Sage, Procore and many other applications to ramp up reporting efficiency in construction. We're continually improving our analytical tools in close coordination with contractors. 
Stay tuned as we highlight new dashboards over the next couple months, and, once again, just let us know if you would be interested in a free demo. 
At ProNovos, we're passionate about construction data analytics. We're always happy to answer any questions you may have—or to just geek out over the kinds of insights that lead to love-your-data moments.
Construction resource management capabilities of ProNovos' Operations Manager construction software
Case study of McClone Construction Co.'s use of Operations Manager for construction resource management
Press release on the launch of Operations Manager–a good primer on the benefits of construction resource management and construction software platforms